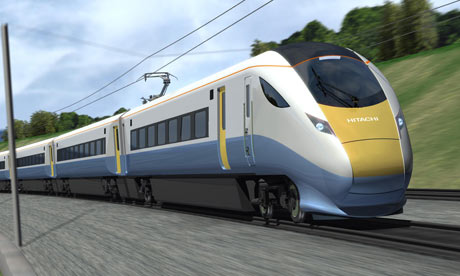 The train services in this country are a joke, as many well know. The biggest mistake our country made was privatising the rail services. Rather than promote competition amongst the different rail companies to drive prices down, they each take particular routes and can charge what they feel like, ie. a lot. Not to mention the myriad of pricing scheme which can confuse and irritate the hardiest of commuters. What used to be an early 20th-century idyllic way to travel, is now a crammed-in-a-sardine-tin nightmare.
What I propose, is a simplification and hard-capping of the ticket prices and seating system, to keep the costs down and give the tax payers more bang for their heavily-subsidised buck. The rail systems could stay private if it was wished - it makes no difference to the system - but somehow I doubt these greedy companies would want to stick around.
Ticket Pricing
Firstly, ticket prices should be always capped at the average fuel rate per distance travelled by car. Yep, that's right, by car. This is built on the premise that no public transport service can charge more than it costs to travel by car to the same destination. If the average cost of petrol is, say £30, back and forth from Southampton to Cardiff, then that's the
maximum
the rail service can charge for a ticket in Family or Standard class (more on classes next). Business Class tickets can be charged up to 20% higher, although can be discounted by businesses purchasing a relevant rail card or subscription specifically tailored to businesses.
Governments often claim that people should be using public transport more instead of travelling by car, and this would have them put their money where their mouth is.
Ticket Class
The original model of ticket classes would be scrapped, and a new system put in place consisting of the following:
Family Class
Children accompanied by adults or any individual under 16 must be placed in this class. If the carriage allocated to this class are full, wait for the next train. If you're in a group, and one of you is under 16, you have to have this ticket and seating. The carriages themselves could feature more group/table seating, perhaps even activity and play areas or boardgames built into the tables. Perhaps even larger luggage areas. Incentives for this class are children brought together to keep them entertained, almost like a makeshift travelling creche, as well as families not having to worry as much about adult conversations being overheard by innocent ears. Discounts could be achieved by group bookings.
Standard Class
This class would make up the majority of a train. The standard train experience we all know and er, love. 17 years and over, and you are able to travel in this class. This would also be the most basic and rigidly priced class, containing no discounts. The only possible way to get discounts would be either student or OAP rail cards. Because families with young children are segregated into their own class, this makes the journey more relaxing and enjoyable for those who prefer a quieter and more mature experience.
Business Class
This class is designed, through and through, for business travellers, 18+ only.Wi-fi and power points would be present here, as well as perhaps mobile signal antenna built into the carriages for constant signal coverage. Business Class tickets can be charged up to 20% higher, although can be discounted by businesses purchasing a relevant rail card or subscription specifically tailored to corporate travellers. There would be nothing stopping regular customers from booking in this class, but that would be a choice to pay more for a ticket than they needed to. Apart from the obvious incentives for electronic equipment, business class ticket holders would be secure in the knowledge that families and more disruptive passengers won't be disturbing them.
Other sources of revenue
So, some may argue, how can it be economically viable for these trains to run if the train companies charge so much at the moment? Well, let's assume that these rail companies are motivated by something other than greed, and actually need to cover more costs. What about selling advertising on the side of trains? We see bill boards in train stations all the time, but trains pull into and stop at stations for all to see. Projection systems could be set up in stations to directly video advertise on the surface of the train as they pull into the station. Or how about screens could be built directly into the train? Advertisers could pay per space on a carriage and for which stops on along the way.
What about screens within the carriages? Allow passengers to pay for a movie to show on the train for long journeys, or use touch screens to order snacks rather than having someone with a trolly guessing when you might be hungry or thirsty. The possibilities are mind-boggling, and the opportunities are all there for the taking.